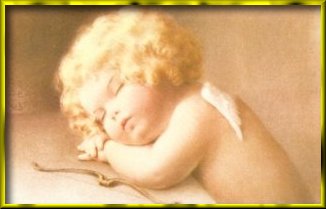 (¯`'·.¸(¯`'·.¸ANGEL HUGS¸.·'´¯)¸.·'´¯)
The only way to find rainbows,
Is to look within your heart.
The only way to live fairy tales
Is through the imagination and power of your mind.
The only place to begin a search for peace
Is within your very soul;
Because rainbows, fairytales and peace
Are treasures that grow from the inside out.
-Evelyn K. Tharp
---
Sharing In Cyberspace
Asking a question,
Getting advice,
Making a comment,
Seeking a price.
Expounding philosophy
Sharing a joke,
Enjoying the company
of like-minded folk.
OK, it's just email,
Not much face-to-face,
But we do get acquainted
In cyberspace.
We like to be helpful
To show that we care,
Even if words
Are all that we share.
- Jacquie Scuitto
---
Love
Of All The Angels High Above
There's One Above The Rest,
Of Course This Angel's Name Is Love
Among Us All Most Blest.
Love's In The Air Caressing Spring
With Every Passing Breeze.
Love's In The Warmth That Summer Brings,
Love's In The Autumn Leaves.
Love's In The Souls That We Are So Pure
Who Seek For GOD's Salvation;
He Helps Their Spirits To Endure
Through Faith And Adoration.
Love's In The Causes Won And Lost
For Love Is In The Labor.
We All Forget The Trials Crossed
When Seeking Love's Sweet Favor.
Love Guides Our Angel's Every Move
Which Isn't All That Odd.
How Could We Work Or Scarce Improve
Without The Love Of GOD?
---
ANGEL FRIENDS
Some people doubt that each of us
Have angels to protect us,
Assigned by God when we were born,
To love us and direct us.
And though we cannot see them,
They're always at our side,
Companions while we're living,
And after we have died.
God knew we needed someone
To watch us night and day,
To guide us down the narrow path
And keep all harm away.
Someone of endless wisdom,
Whom He could always trust,
To guard us every minute,
And take good care of us.
So carefully He chose each one,
For every living soul,
Some with wings of silver,
And some with wings of gold,
But all filled with a burning love,
That never has an end,
And each of us is blessed to have,
A Special Angel Friend.
-Grace E. Easley